STAYING CONNECTED IN TIMES OF CRISIS

Greetings Project South Family,
We are thinking of each of you and wishing you good health and safety during the COVID-19 pandemic. We hope that you, your families, and your neighbors are doing well and joining together to take care of each other.
As a movement building family, we take our collective wellbeing very seriously. Over the past couple of weeks, we have all been engaged in learning more about coronavirus and the evolving public health crisis that is now unfolding, in large part, because of the oppressive and inhumane systems that we fight against every day.
Although we do not know everything about the short- and long-term effects this pandemic will have on our communities and on our work, we do know that the most marginalized among us will be disproportionately affected. We also know that we have been organizationally preparing for movement response to crisis for the last 10 years. And working to have a positive and productive impact during this historical moment can manifest courage over fear; collectivity over individualism; communication over isolation; mutual support over exploitation; liberation over oppression.

To defeat the forces against our communities, Project South has always relied on the collective power of people like you. We appreciate your support, and we trust that, together, we will come out stronger on the other side of this crisis.
In unity, in resistance, and in the spirit of community care,
Project South Staff Team

WE NEED EACH OTHER

" Organizers work to overcome fear. We're not saying 'Don't have fear.' But don't let fear stop you from doing what you know you need to do. The antidote to fear is connection and being together."
Longtime Organizer Brenda Hyde of Southern Echo, Jackson, MS
The issue:
Federal leadership, mired by denial, hubris and blatant lies to the public, has left the especially vulnerable — folks who cannot afford health care, folks in rural areas, elders who are alone, working people who aren't given the right of paid leave, parents who have few options for affordable childcare, and many more — under greater threat of suffering the medical and economic consequences of the viral pandemic. Embodying the consequences of capitalism which drives this country, this administration has also prioritized corporate bailouts over helping everyday people meet their basic needs.
Our stance:
Mutual aid is a direct way to reclaim our collective power, and to strengthen community by standing in for each other where systems fail us. It is what we aim to do, in tandem with the Hunger Coalition of Atlanta, daily at the Mutual Aid Liberation Center @ 9 Gammon.
AS social upheaval and rapid changes are surging across the United States and the world, we must be here for each other. We must consider the opportunities within this obstacle to make demands that will prepare and protect our communities long after the crisis passes. We must reimagine our social and political realities, and practice new, liberating social relations that equip our communities to survive.
Taking action:
Project South is fueled by our movement building work with like-minded partners throughout our neighborhood, region and world. We continue to educate, connect and organize for grassroots movement power to defend against this social disaster, and against the unjust conditions, greed and elitism that allow such disasters to thrive. To combat this issue, we are:
MINDING THE GAP THROUGH MUTUAL AID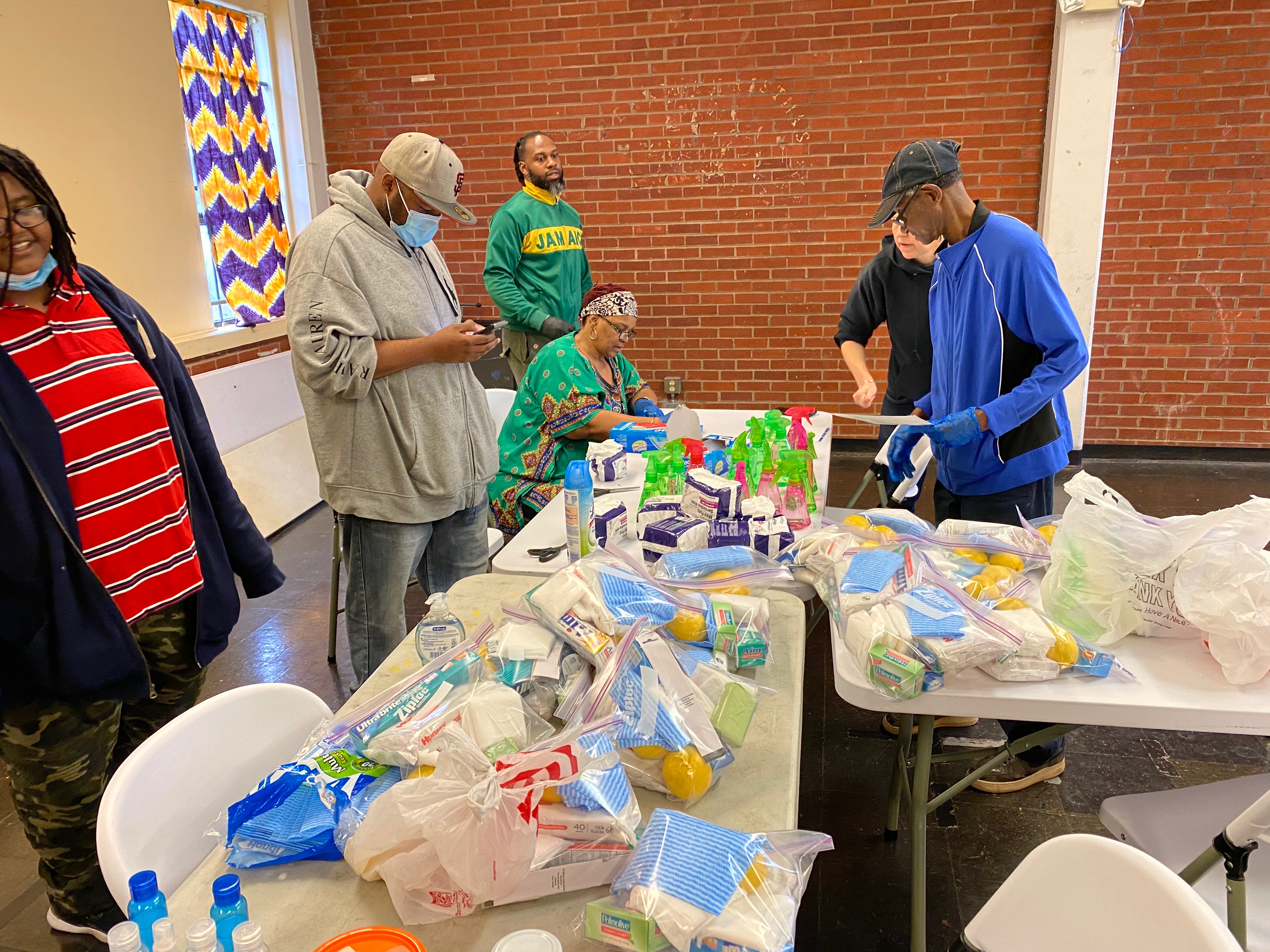 Housed in the Mutual Aid Liberation Center @ 9 Gammon, Project South and the Hunger Coalition of Atlanta distributed 88 personal care kits to our neighbors in South Atlanta and surrounding areas. The MALC team aims to help to r
educe the spread of coronavirus in a vulnerable population, and keep folks connected where access to the internet is lacking
. The team will begin delivery of food and other resources next week.
Please feel free to reach out to us for support, especially our Southern fam!
BUILDING WITH GLOBAL PARTNERS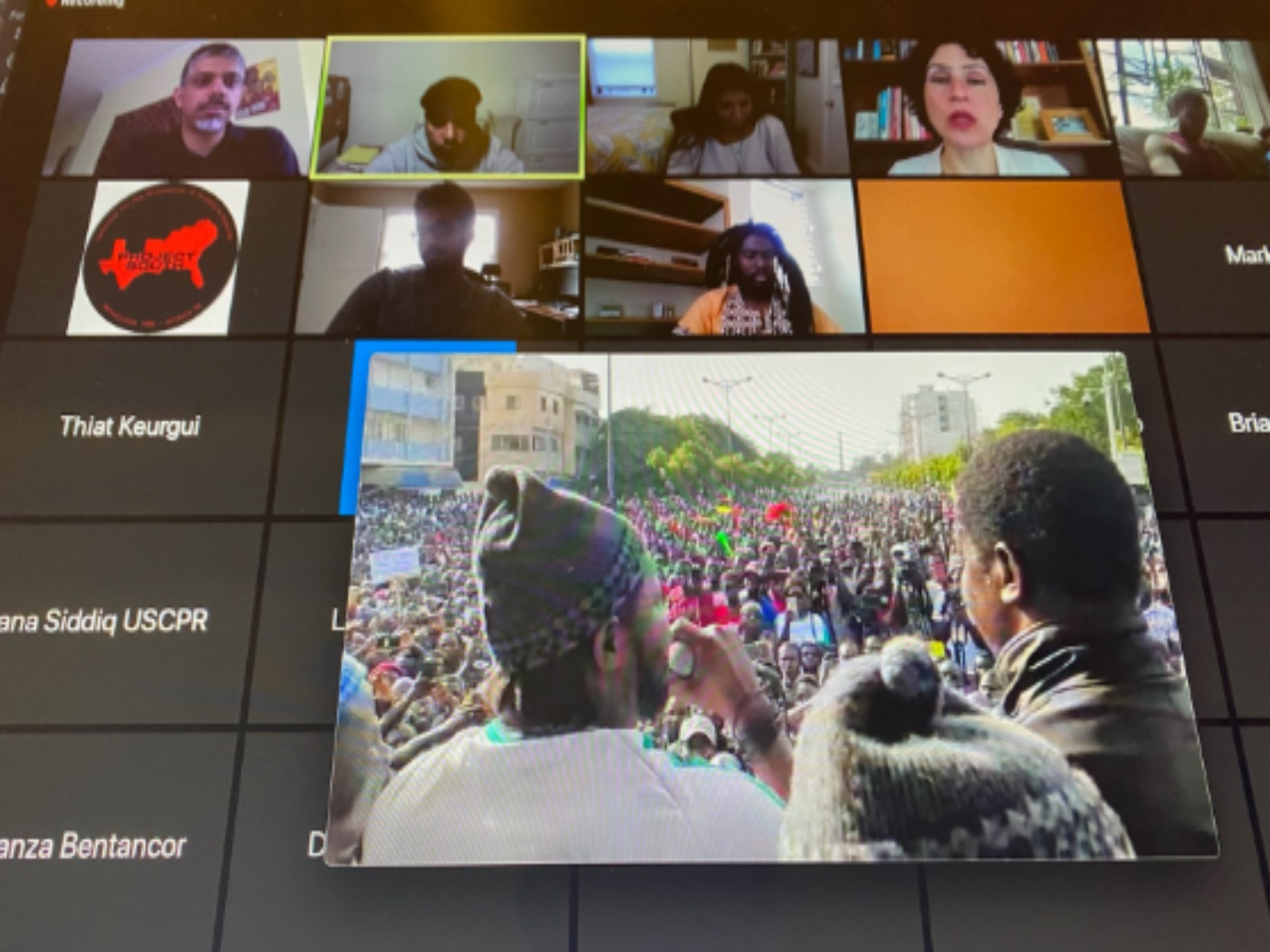 The coronavirus pandemic has exposed the contradictions of inequality and global oppression, including the impact of sanctions on many countries' ability to respond to this crisis. Nearly 50 people attended a webinar connecting our local and global struggles March 19, exploring movements against Fascism in India, U.S. aggression and sanctions against Iran, and our exchanges with grassroots social movements in Senegal and Haiti, with speakers from the latter two countries.

RESISTING LEGISLATIVE THREATS
This crisis also reminds us of the cruel practices of government bodies like Immigration and Customs Enforcement (ICE), which uses these fragile moments to prey upon our communities. Project South organizer and strategic partnerships director Manzoor Cheema took part in a rapid response plan March 18 that mobilized the Cary, N.C. community to protect a family from being detained after being targeted in the parking lot of an indoor game center.
Read this
NBC News article
, featuring the insight of Project South Staff Attorney Priyanka Bhatt and our partners in immigrant and refugee advocacy, for other ways we are pushing back against ICE's collaboration with local public entities like the Georgia Department of Driver Services.
With the work of this coalition, two anti-sanctuary bills were defeated in the Georgia General Assembly. We are keeping our focus on this legislature, which passed a youth criminalization bill and is now meeting without public scrutiny as folks turn their attention to the pandemic.
ORGANIZING DESPITE DISTANCE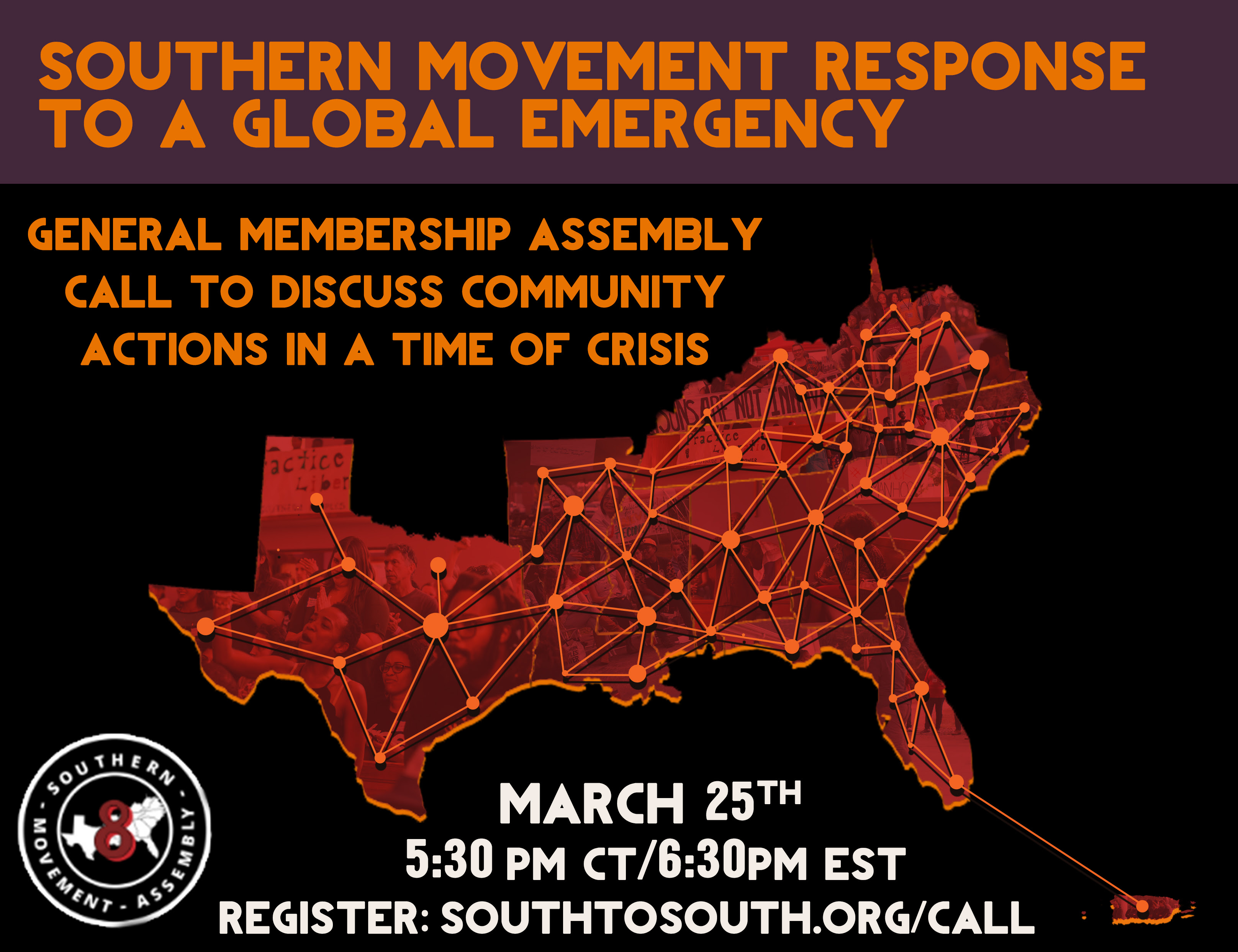 Though the pandemic shifted our plans to convene in Little Rock, Arkansas, we met virtually for a smooth seven hours and the energy has not stopped!

We strategized and inspired each other with actions happening across the region and the world. We met in breakout groups across seven frontlines and generated action ideas to resist and build in this moment.
Join us this Wednesday, March 25, to see what happens next!
What does COVID-19 and this moment mean for all critical Southern Frontlines in 2020?

How do we protect and defend our folks during this public health crisis?

How do we practice a people's democracy while the power structures fail us?

How do we build a new social economy when the systems of exploitation are exposed?

How can you join Action Plans for SOUTHERN SPRING: 90 Days of Action to Resist and Build (April 1-June 30)?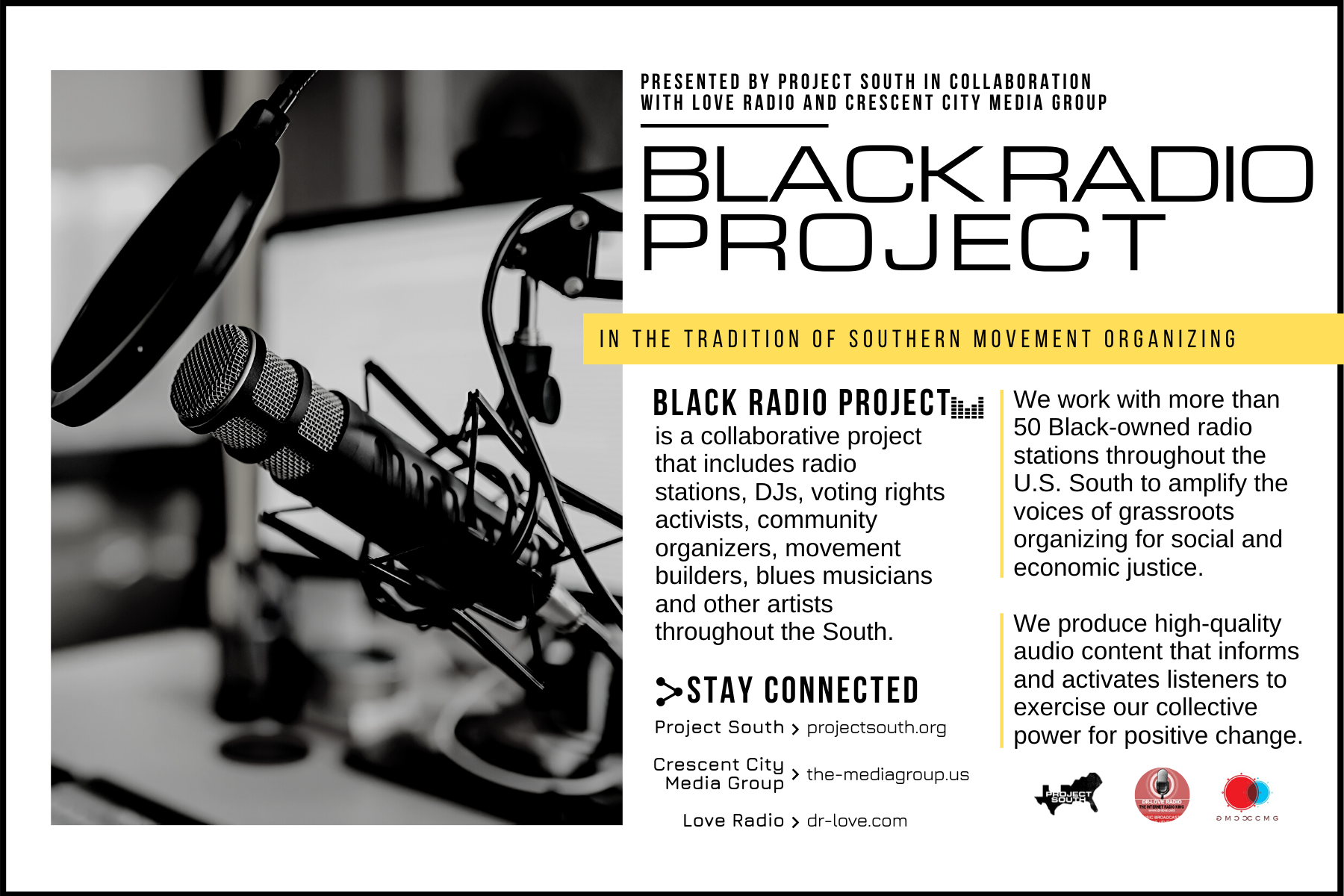 We are

supporting grassroots communications infrastructure through the Black Radio Project, a partnership with more than 50

Black- and community-owned radio stations in the South.

Controlling our own information outlets and creating our own content are critical components in spreading awareness, increasing safety, and reducing misinformation during times of disaster.
Click below to hear a new PSA about #SouthsCounts2020 and the Revolutionary Census Project, a collaboration of Project South and the Center for Civic Action. We all count!
Project South: Institute to Eliminate Poverty & Genocide
9 Gammon Ave. SE, Atlanta, GA 30315 | (404) 622-0602 | projectsouth.org